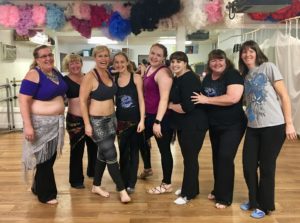 Dana is a highly trained and accomplished ATS® performer and Instructor. She loves to teach, even more than performing! Her teaching style is leader and follower until a student achieves a partnership between seasoned dancers and beginners. Each dancer progresses, by showing her support to each person by always being encouraging, welcoming, paying it forward and mastering the dance vocabulary. Dana's goal is to inspire how women feel about themselves and each other by promoting the strength of sisterhood.  Lasting friendships can be formed and improved outlooks on life in general.
Once in a Blue Moon you'll find a Haven where you can be yourself and Dance.
As a teacher, Dana puts everyone at ease in the classroom. She instructs the movements in a multitude of ways based on the individuals learning capabilities. She is open to questions and presents ATS® in a fun, easy, and concise manner.
---
Please come to your 1st class 5 minutes early to fill out your New Dancer Paperwork.  Link to Paperwork
• Classes $15.00/ Drop-Ins Welcome.
• Monthly $50
2 Classes a week- $80
• Private lessons are available & start at $30
Boise, Idaho: 7233 Potomac Rd, Boise, Idaho
Monday
6-7pm Beginning Tribal Belly Dance
7-8pm. Strength & Conditioning for Dancers
Wednesday's
6:00-7:00pm Level 3 ATS®
7:00-8:00pm Level 2 ATS®
8:00-9:00pm Improv Class All Levels
Please wear comfortable clothing that allows for ease of movement. (yoga clothing, leggings, work out clothes) You can wear a short skirt over leggings, add a hip scarf, belt or sash. Make sure it is something that allows me to see your body alignment and knees. No super bagging clothing or oversized t-shirts. We dance Barefoot, but socks are recommended or dance shoes/sandals. No street shoes. Yoga / workout clothing is perfect!
[serious-slider id="9″]
Google Calendar